Green Evolutions - Enliven your Space
Setting out on an exciting adventure to shape-shift the dynamics of the water fountain, water solutions, and accessories industry in India, Green Evolutions' legacy began in 1999. Since then we have secured a pivotal status in being synonymous with imported quality and provision of our services.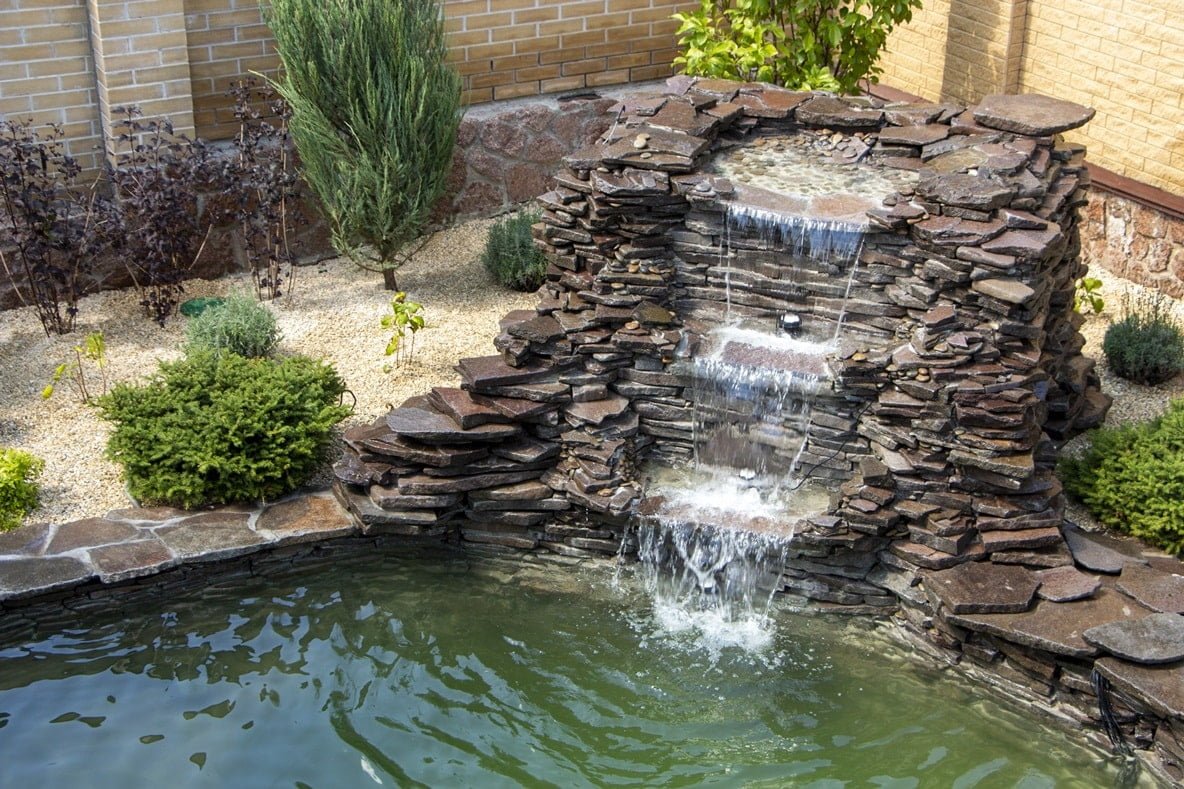 From there we have sailed a thousand leagues under the proficient captaincy of Mr Rehan Jailis.
For us, a solution for a client goes beyond the call of duty of a standard service. We formulate a holistic customized solution, tailored pristinely to fit the client's needs and wishes, brought to life by our team of passionate experts.
We know you are looking to add a certain grandiosity to your outdoor and indoor spaces. We don't hold the spectacle of water fountains just being a decorative element. We believe they depict the shade of magnificence in your taste, and we work towards encapsulating your desires in our product.
Water fountains hold an exhilarating ambience around them, and we wish to interlace that feeling in your homes.
We toil to polish our products to perfection, because we know there's more to it than meets the eye.
It's about channelizing the flow of magnetic energy pulsating in your homes, throbbing and alive, that is the aura we chose to portray.
In terms of adding splendour to your homes, we believe that there should be no limit to your imagination. So we offer a wide spectrum of variety under our umbrella. Because we want to present you a choice range where the only limit is the sky.
We have an eagle's eye on the market to blend the latest trends with our classic style, for our products to be presented as a staple of timeless art. We fluently speak the dialect of swimming pools, jacuzzis, water fountains, and terrace gardens.
For boundaries to never hold us back to one region, we have a distribution channel, which despite stretching far and wide to interweave all the states, remains tenacious enough to prevail for longevity.
Because of this, we're able to account for the market trend of a diverse range of cultures, for us to mould our products and services to your preference.
The range offered includes a :
Bell Fountain

Fiber Base Indoor Fountain

Fountain Kit

Geyser Fountain

Glass Fountain

Jumping Jet Feature Fountain

Musical Fountain

Outdoor Fountain

Programmable Water Curtain

String Roof Fountain

Wall Fountain

Water Cascade

Fountain Accessories
Basic Material Used
All of our materials are imported, as we aim at emanating the intricacy of their complex art in our products. These include:
Furthermore, we also get customised designed Nozzles, Fibre Waterfalls, and many more, to deliver you the exceptional quality you have come to expect from us.
Having travelled far and wide in our expedition in binding art and business to dispense a quality unrivalled, our eminence has caught up with our vision. Our products have struck an appeal in the market and also established a style which only resonates with us.
Be it the addition of a swimming pool to your living complex, or the augmentation of the medieval fountain to your hotel lobby, or simply a relaxing jacuzzi added to your terrace garden, the applications, and their permutations and combinations are limitless
We have a steady growth in captivating the likes of : 
In our quest to portray your vision of a quintessential home adornment, we aim to capture even the most microscopic nuanced details in our product. So we offer no limits to your desires. Instead, we take it up as a challenge to craft a replica of your vision, down to the last speck of polish. 
Further, we can also customize designs that are the spectacle of entertainment to the highest of degrees, like multiple bowls and large models to be placed in corners or adjacent to walls. 
We at Green Evolutions are meticulous in our selection of raw materials in their primitive stage of our water solutions.
We don't just believe in creating, but also breathing life in our water fountains.
Everything from the stretch of pipes spiralling the fountain down to the last nozzle is organised to amplify the magnificence of the end product. The material for which is ordered with a shrewd sense of judgment in its quality. 
Here at Green Evolutions, our classics are an extension of our illustrious presence itself. Both outdoor and indoor fountains can blend immaculately with your home decor. To capture the essence and the spirit of Gothic mansions, the fountains can be designed to delineate an era of history. 
The swimming pools can be simple, but adapt to your needs and spatial requirements like the water it holds. The jacuzzis can be as luxurious as a liquid bed of roses. And the terrace gardens are as unique as a person's fingerprints, enthralling those pairs of eyes which it captivates.
The success achieved by us today is just a reflection of the committed efforts put in by our professionals. Our employees are the ones who weave the threads of charisma in the fabric of Green Evolutions.
Our employees interlace their creativity and their dexterous skills to forge the aesthetic artistry in our water solutions.
Our team holds a firm grip on the virtuosity in hosting all kinds of musical fountain shows all over India.
Their dedication and work ethic paints the shades of our prestige with vibrancy.
Having recruited some of the best talents from the industry, our team consists of:
Administrators

Procurement Professionals

Quality Inspectors

Marketing & Sales Personnel

Skilled Process Control Staff

Customer Care and Satisfaction Personnel
Material Procurement Process:
All the raw materials procured by our team are physically inspected by professionals who visit the field who appraise the equipment and scale their durability.
They are updated with the latest trend reigning in the market by our sales and marketing executives who have a sharp eye on the market.

The equipment is further scrutinised by our quality inspectors who provide the final judgment in this regard.
The steady growth of our business is attributed to the execution of those brilliant strategies by our sales and marketing professionals. Our market research team dissects the audience and updates itself with the latest fashion desired by our clients.
There's no price unaffordable for quality at Green Evolutions. Aside from engraving artistry in our products, the evaluation of their quality tops the list of our priorities too. The quality should balance the scales of customer expectations and aesthetic appeal. We believe in delivering the highest calibre for our client's most desirable dreams.
Be it the parts of the fountains, jacuzzis, or swimming pools not in sight, we strive to better the quality of each part that make up the creations that deliver optimal functionality and captivating aesthetic value.
To go one step further, we conduct the following checks on our services delivered- 
Usage of  meticulous tools & precise instruments in water body construction and landscaping service

Perfecting techniques & methodology used in the water landscaping service

Verified and certified procedures and systems

We also conduct well-defined quality assurance inspections at different levels, starting from the procurement process till the products are finally delivered.
The basis on which our manufactures test the products are-
Durability

Exceptional Finishing Standards

Peak Performance

Dimensional Accuracy.
Like our work-ethic, our quality assurance is non-negotiable.
Our service is to brew the replica of our client's vision of creativity and sharpen it with the whetstone of modern technology. The bar of our status has only seen a steady incline due to our tendency to maximise our client satisfaction. Our prestigious esteem has burrowed its roots in the industry from the seed of our client's testimonies.
In an extremely competitive market, we prioritise consistency, impeccable quality, and customer satisfaction to form the perfect recipe to gain the trust of our clients.
Some of the most valuable clients we have served in the past include: 
D L F

KOUTON

VLCC

H D F C BANK

L G

HERO MOTORS

IFFCO

JUST DIAL

HUTCH

R P M

AAKASH INSTITUTE

CHAUDHRY DEVI LAL UNIVERSITY

INDIAN OIL

LDA

MCD

EMBASSY of MYANMAR

SUMMER VILLE SCHOOL

MAA VAISHNO DEVI ASHRAM

LAL MANDIR

JAMA MASJID
APTECH
T T LIMITED

GANGA RAM HOSPITAL

COMSUM

THE LODHI RESTAURANT

LOIX TECHNO PARK

MDLR

AIR LAINCE

S S GROUP

TDI MALL

DELHI HIGH COURT

MOTHER DAIRY

D B S
That's the first question you would ask. Why Green Evolutions?
We amplify project quality with the help of a robust technical team.

We ensure clients get prompt service within 48 hrs.

We offer indistinguishable prices for quality products.

We provide complete support till the project ends & don't rest until our customer is truly satisfied.

We thrive 24 × 365 throughout the year.
We speak the language of Jacuzzis, Fountains, Swimming Pool, and Terrace Gardens like no other. We don't view them as products; we view them as exquisite portraits.
What's more?
We are constantly finding innovative ways to be the best at what we offer. Stagnation isn't in our vocabulary. So you can rest assured that the latest trends, technology, and innovation make their way into our offering before anyone else.